**giveaway is closed***

I hope everyone had a great relaxing Thanksgiving weekend. I am so excited to bring you my latest giveaway to get you started on a great Holiday season :)
I am participating in my very first link giveaway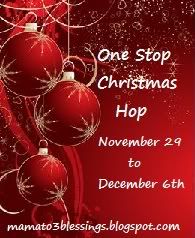 This is a big event everyone! There are lots of bloggers participating and giving away tons of prizes!
When you enter mine be sure to enter their giveaways too!
And what am I giving away?? Well, nothing less than a $30 gift card to one of my favorite stores!
Enter by commenting below for one chance to win. Make sure you put your email address if you don't have your blogger set with email.
*For an extra chance-become a follower of this blog with google friend connect and comment below telling me so
*for another extra chance follow me on facebook by clicking the icon on the right and commenting that you did it!
This giveaway will end on Dec 6th at 10:59 CST
*winner will be chosen via random.org