I am addicted to CB2! I love looking through their catalog and getting ideas on how I can incorporate some of their products into our home. What I don't like so much are the prices. Holy Cow!
The first thing that caught my eye was this!
But at $269 I was like
WHAT
?!
So guess what I did? I made my own :)
Granted mine is not as big as the one in the CB2 catalog. I mean theirs is a whopper of a clock. See it below in one of their catalog rooms!
The first thing I did was head over to Hobby Lobby and get myself a sheet of foam board in black and one in white. You can use plywood or whatever you have on hand. Make it as big or little as you like.
I was first inclined to cut out the circle with my exacto knife but that darned foamboard was thicker than I had imagined and my circle came out all crappy.
As I pouted and ran back and forth in front of the hubster, he finally asked what I was looking for. I told him I was looking for something to cut my foamboard that wouldn't make my arm break off!!
He quickly surveyed the situation and went out to the garage to get this:
Which made it A LOT simpler to cut out the circle :)
Let me tell you this is the best present I have ever gotten him. He loves it (and so do I).
He simply attached this circle cutting attachment-doohickey and took it outside. He cut two circles one in white and the other one -the black one- he cut inside and out. I then sanded the circles to make them smooth with a fine piece of sanding paper. Thank goodness for the hubbs, I tell ya, I'd be pitching a fit trying to get that darned circle to look like a CIRCLE and not an ellipse!!
The original CB2 clock measures 39 inches. I made mine to be 12 inches around. I bought the clock mechanism at Hob Lob and painted the hands red (just like the catalog one). While those were drying I made a hole in the center where the clocks hands were going and started sketching my design. I have always loved modern, cubism, Dali'ish art and so I simply drew my design in pencil and then traced over it with a black sharpie, filling in here in there where it was called for in my design.
I then attached the hands and the mechanism to the back and here it is! I still needed to sand the edges down a bit more and center the outer black ring. I simply glued that black ring on with hot glue. I then attached a piece of velcro to the back so I can hang it on the wall.
For my own version of the CB2 clock- the total cost breakdown is as follows:
Foam board X2 $6.00
Clock hands: $2.99
Clock mechanism: $5.99
Sharpies: $2.49
$17.47 BABY!!! YAY!!
I knew exactly where I was to hang this in my boy's room. All I needed was some accent piece (s) to balance it out.
I perused the Target.com website for some snazzy and cheap shelves. I found this:
Interlocking Wall Shelves-Black
and decided those would do. I then bought some letters and painted them in coordinating colors to match my son's room.
This is how it ends up looking.
Not bad huh? Total cost for the wall grouping:
Letters X 2 $3.00
Shelf $19.99
Clock $17.47
Total 40.46
I had the acrylic paint on hand as well as the award winning pinewood derby car ;)
Come back later this week for another CB2 knockoff!!
I can't wait to finish this room and show you guys how it's coming!
Linking up to:
http://www.betweennapsontheporch.blogspot.com/
http://www.bystephanielynn.com/
http://shabbynest.blogspot.com/
The Gypsy's Corner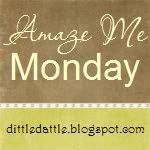 The Nester
Skip to My Lou
The DIY Showoff
Knock Off Decor