Since the holidays are just around the corner I thought I'd post my turkey recipe.
I've been cooking my turkey this way for years.
It's something that I've been perfecting since I was 23 years old and I cooked my first family Thanksgiving :)
Ever since then my family has always wanted our turkey cooked this way.
I don't stuff it with dressing.
And you can substitute the white cooking wine with more olive oil if you'd like.
Make sure you use the Reynolds Oven bags and follow the directions on the box for your size turkey.
Your turkey will be moist and aromatic plus very tasty.
First, here's what you'll need:
Reynolds Turkey/Oven Bag
1 tbsp flour
2 Bunches of Cilantro
1 Medium White Onion
3-4 cloves of garlic
1/2 cup White Cooking Wine OR you can sub. with the Non-Alcoholic Version or more olive oil
1/2 cup Pure Virgin Olive Oil
1/4 cup Kikkoman's Teriyaki with Garlic Sauce
Basting Brush
Preheat Oven to 350 degrees.
First defrost your turkey. Remove the giblets and neck. Rinse and pat dry. Set aside. Take the oven bag and put in the flour. Hold bag shut and shake the bag to distribute the flour inside it. Place it on your roasting pan ready for the turkey.
Slice up the onion. Peel the garlic.
In food processor or chopper, put in 1 bunch of cilantro, 1/4 of the onion you just chopped, 2-3 cloves of garlic and all the liquid ingredients. Pulse until it is smooth but you can still see the little cilantro leaves.
Take your basting brush and brush generously on turkey (back and front). Stuff turkey with another bunch of cilantro, the rest of the onion and the rest of the garlic. Put turkey into oven bag and close it with the twist tie. Slice 6 one inch slits all along the top of the bag to let out steam.
Ideally I marinade my bird for a few hours before cooking, but you can just put it in the oven now.
For a 12 lb. turkey, it usually only takes about 2.5 to 3 hours. Follow the directions on the Reynolds Oven Bag chart included in the package. Do not over cook!! Do not cook overnight! It will dry out the meat.
When timer is up, put a meat thermometer thru the bird's leg and breast to see if it reads 180 degrees. Take care that the thermometer doesn't touch the bone. When it reads 180 degrees it is DONE! Take in the heavenly aroma and carve it! Serve it on a platter, and take the juice in the roasting pan/bag and spoon it over the meat to keep it juicy and fragrant. Enjoy your turkey and the accolades to come from your hungry family :)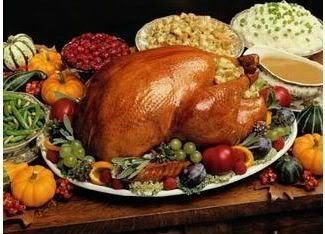 Please let me know how it turns out if and when you try it.
I would love to know if you enjoyed this recipe. I'll be posting some non-traditional recipes for dressing in the next few weeks. I love trying out new ways to spice up the holidays :) Enjoy your Halloween weekend.
Linking up to these wonderful linky parties:
http://www.atthepicketfence.com/